Disclaimer: This is a fictional story.
The beautiful thing was that Jen's Elektra costume still fit. At least the blood-crimson vinyl bustier did. Jen had kept fairly good watch over her figure after bearing Ben's babies. But the thighs could be a little less chunky, so she had swapped the leather leggings for fishnet stockings.
"Remember this?" she said, turning, daintily in stiletto heels.
"Most of it," he smiled, looking anxiously to her crotch.
Jennifer frowned, "you don't like it?"
She reached between her legs and stroked the long, black anaconda that protruded from her harness.
"Seems to me you like to get fucked up," she said, teasingly.
"C'mon, baby!" Ben said, putting his hands up.
"Baby!" she exclaimed. "Your new girlfriend wouldn't like that very much."
"You're still my baby," he objected.
"No, I'm not," she shook her head. "I'm something quite different, as you can see."
"Hey, Jen – You don't just write off a decade of marriage just like that!" he said.
"Hey, Ben," she mimicked him. "Sounds familiar!"
He leaned against the arch of the doorway, nodding in concession. His Batman training physique still lingered even as the Holidays threatened to bring back his Dad-Bod. He looked older. He looked fit. He looked damn sexy.
"I fucked up," he admitted. "And I got fucked up. But I'm here, now."
Jen cocked an eyebrow, "and that's enough?"
He pointed at her girlcock and blurted "why? Is that going to be enough? Is that what this is?"
She shrugged. "Who says I'm wearing this for you? If you haven't noticed, Ben, I wear the pants in this family, now."
He ran his fingers through his hair gruffly as he paced and growled.
She picked up a bottle of petroleum jelly and began to smear it on the head of the cock. First a little bit. THen a lot.
"I told you, I'm fine, now," he said. "I'm sober three weeks, Jen. Three weeks!"
"Big man," she said, smearing more greasiness onto the dildo.
"You know what!" he blurted. "I am! I am being the big man, Jen! Put that thing away, will ya?"
"No," she answered.
"No?" he said in shock.
"Did I stutter? This is my cock. It stays with me."
"Any second the kids are gonna come in and they're – they're gonna see you like that!"
"I'm not embarrassed," she said sincerely as she worked the shaft more and more.
"You know what?" he said. "Fuckit! Let's do this." He stripped off his jacket. Then he stripped off his shirt.
Jen watched dispassionately as she worked more and more lubricant onto her latex lady-meat.
"I think that's enough, Jen!" He said as he pulled down his pants.
"You don't tell me how much is enough," she said, calmly. "We wouldn't be in this position if you knew how much was enough."
He wagged his head in embarrassment.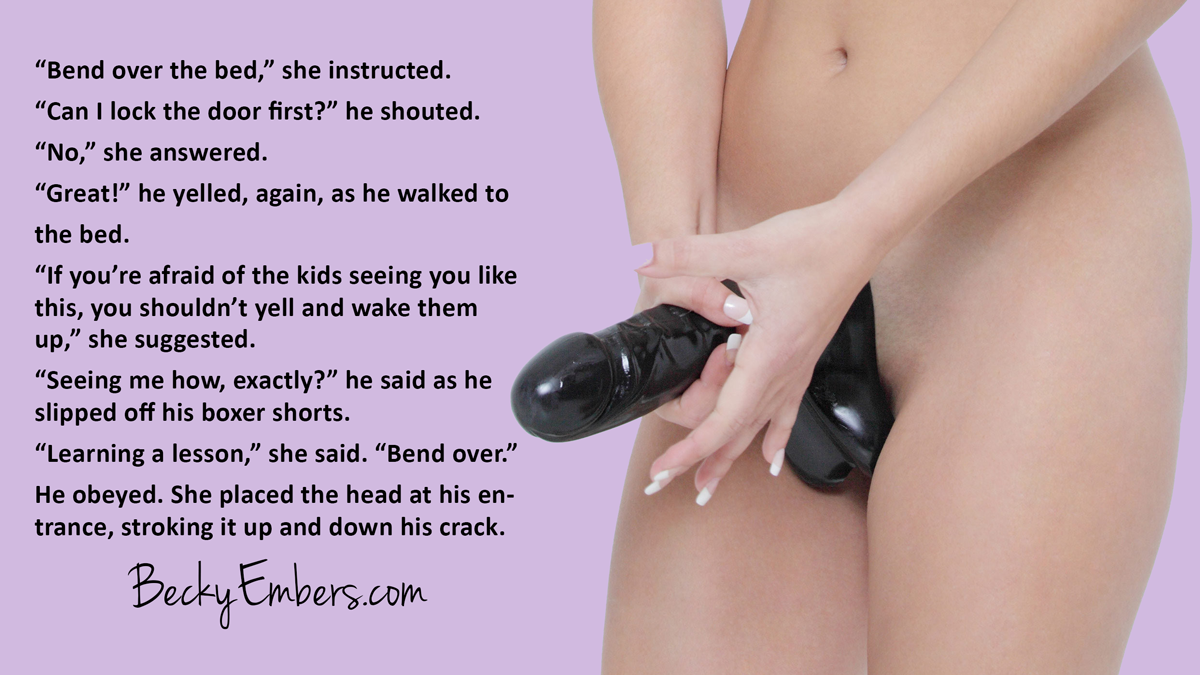 "Bend over the bed," she instructed.
"Can I lock the door first?" he shouted.
"No," she answered.
"Great!" he yelled, again, as he walked to the bed.
"If you're afraid of the kids seeing you like this, you shouldn't yell and wake them up," she suggested.
"Seeing me how, exactly?" he said as he slipped off his boxer shorts.
"Learning a lesson," she said. "Bend over."
He obeyed. She placed the head at his entrance, stroking it up and down his crack.
"Ooooooo. Don't bother with the bat-signal, Commissioner," she teased as she spit down his ass crack and worked her spittle into his bum with her cock. "We need a real hero over here!"
"C'mon!" he objected.
"Okay," she said. Then she split his asshole open on the head.
"Fffffuck me!" he blurted out, angrily.
"Okay," she repeated and pulled back, clearing his pink ring and then stabbing through his batcave.
"Ah-ha! Ah! Ah!" he said.
"What were you saying, little boy?" she asked as she worked the sphincter of his boi-pussy.
"I don't know," he admitted as he felt her force her way in.
"You were telling me how you know you are doing just great with your sobriety," she said.
"I'm fuckin' tryin' here, Jen!" he said in his notoriously Boston accent. That's how she knew that she had struck his core – when his pretended All-American accent melted away and the real Boston boy emerged.
"Make Momma feel good," she said.
"You can feel that?" he asked.
"It's got a nice, stiff end inside my pussy," she said.
"Well, that's good to—fffffffuck!" he cried out as she pressed deeper into him.
"You had enough, yet?" she said. "You know how to tell when you've had enough, yet?"
"Ugh!" he said.
"C'mon, Big Man," she growled through her grit teeth.  "
"Aaaaaaagh!" he growled with his bitchy voice.
"Shut the fuck up!" she ordered as she smacked his ass hard.
It burned with a flame of desire as it dug deeper and deeper into him with each powerful, girly thrust.
"You feeling like a big man, now? Huh?" she said. She spread his cheeks wider and pulled out all the way, much too quickly. In spite of his bitchy complaints, she dribbled a long string of spit on her fat cock and drove it right back in.
"God!" he cried out in a sick and lusty mix of pain and joy.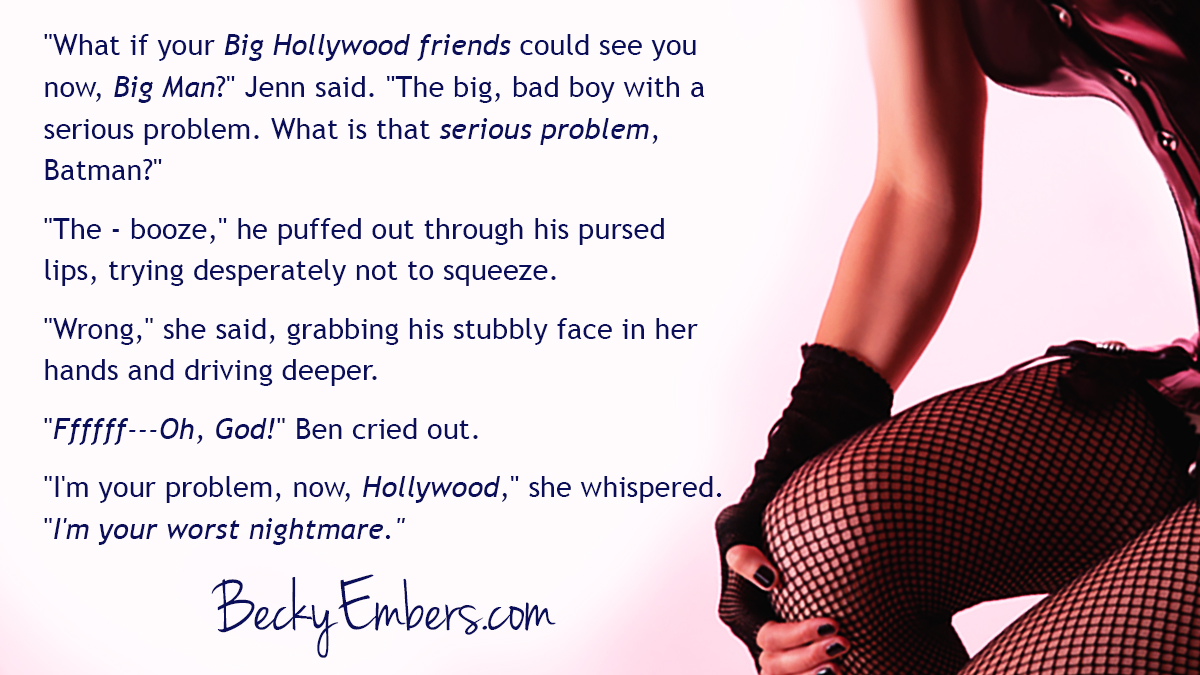 "What if your Big Hollywood friends could see you now, Big Man?" Jen said. "The big, bad boy with a serious problem. What is that serious problem, Batman?"
"The – booze," he puffed out through his pursed lips, trying desperately not to squeeze.
"Wrong," she said, grabbing his stubbly face in her hands and driving deeper.
"Ffffff—Oh, God!" Ben cried out.
"I'm your problem, now, Hollywood," she whispered. "I'm your worst nightmare."
As she pulled out, he let out a whine of complaint. As she pushed in, he breathed a sigh of apprehension. Whine…sigh…whine…sigh…whine…sigh…
"Oh, yeah, baby," she said. "I'm gonna make a good man outta you, big boy. You're Bruce Wayne with her. You'll play Batman for me, now."
"I want it," he whispered.
"I know," she whispered back. "You love it."
"How do you feel?" he asked as she made him whine again.
"I need it rougher," she said.
"Do it," he said. "Please."
She ass-fucked him deeper and pulled fast. he spat as he grit his teeth.
"Fuck me with that great big cock," he begged.
"Again!" she said, smacking his ass so hard that the sound cracked off the ceiling of the bedroom that they had shared for ten years.
"Fuck me, baby!" he said.
"You call me Daddy," she said, violating his anus to the hilt.
"Ugh! I'm seeing  stars," he said.
"I don't care," she said, fucking him harder. And she didn't.
"I love your hard cock," he admitted in a voice that was almost girly.
She pillaged his ass over and over, spreading his cheeks with her thumb and spitting down his crack as she took him harder and deeper. Harder and deeper.
She pushed him onto the bed. He could do nothing but help her. Laying ontop of his back and driving into him, all the way, she forced his back to arch until he was face-to-face with her. She kissed his strong lips, savoring the taste of his pretty mouth.
"Oh my God!" he breathed as she fucked him.
"Goddess," she corrected him with a red-handed spank. She pulled all the way out, much to his audible chagrin.
"Turn over," she ordered.
He obeyed, his feet high in the air.
"You like it deep, little boi?" she asked.
"Yeah, deep, Daddy," he answered.
"Gimme that dick, Daddy," he begged.
"Big, black dick," she corrected him.
"Gimme that big, black dick, Daddy," he begged, again.
"Who wears the pants in this family!" she growled.
"You do, Jen!" he answered.
She reached down and grabbed his  cock. "Make this little clit cream for me, asshole," she bit off at him.
"I'm gonna cum!" he warned her.
"It's show and not tell, bitch!" she yelled at him.
"I'll do anything, baby!" he cried out.
She froze. She grabbed his face.
"Anything?"
He nodded, reluctantly.
She shoved her full length and stroked him in broad, wet, even, tight strokes. He bucked and squirmed as she worked his hole and his shaft until he could bear no longer and creamy, sweet, gooey love spurted out of him like a sprinkler.
"Ahhhgh!" he cried out as he came harder and harder and harder.
After he was done, she leaned down and kissed him and said "Go back to rehab and finish what you started."
She plopped out of him and turned away.
"I can't believe that you would risk the kids hearing all that!" he said with a chuckle.
"Your Mom came for the kids four hours ago," Jen answered. "We've had the place all to ourselves the whole time. I'm gonna call you a pick-up for the in-treatment center."
Facebook Comments