PLEASE TAKE A MOMENT TO RATE THIS STORY.
(1 votes, average: 5.00 out of 5)

Loading...
Read all the Chapters of Grease Monkey Brothers.
The week went more slowly than usual and that made Karen worry. A few jobs were cancelled because the farmers were having a bad harvest and some were even being forced to give up their farms. That was a disheartening thing to witness, firsthand, especially as they started to sell off their farm equipment, still un-repaired or under-maintained.
Drew was the first to express worry.
Soon, though, Mr. Groesbeck emerged from his cave to start poking around and see what was going on. As things got slower and slower, the boys started to take more and more time off. And as they took time off, the books started to unbalance. Karen could see that soon there would not be enough to make payroll and also have a worthwhile bonus to get her out of Nephi.
Seth was ecstatic. His Barracuda was coming along nicely and his truck modification side-business started to pick up. Three identical trucks came through the shop early in the morning, when no one could see. Seth brought the drivers through, made his business exchanges and shepherded the trucks in and out with quick, easy modifications.
Karen didn't like it, but the shop was empty, otherwise and Seth promised to get the trucks out the instant that there was paying work.
"What the hell is that thing?" Mr. Groesbeck asked Karen as he perched on the office deck, looking out over the white Semi cab in the shop.
"That is a Peterbilt in from California," she answered. The truth is that she didn't know anything besides that. It was Seth's side project and she was letting him get away with it. And why? Because she was afraid of what would happen if she started to explain how much she knew and how she had come to learn that information.
"Since when do we do that!" he yelled, turning red-facedly to her.
Her cheeks flushed red. "We had so many cancellations," she stammered," we had a walk-in – the guy is an independent – just trying to make it home for the holidays."
Yeah, that sounded good.
"Who is he!" Mr. Groesbeck yelled. "What's he haulin? Why doesn't he have a repair shop in Salt Lake?"
"He is a – uh – hispanic gentleman from L-L-Los Angeles," she bit out, now making up the details as she went along. "He thought his truck wouldn't make it up North. Seth is checking it out."
Her eyes darted around but Seth was nowhere to be seen. He must have taken another smoke break.
"Goddammit!" Mr. Groesbeck yelled. That made this serious. She never heard him swear so vile before.
"That engine is expensive! Every part on that truck is under warantee and anything that boy touches on there will void that warrantee! I hope you made the client sign a liability waiver!"
Her jaw closed. There was no getting out of this but right through it. She rolled her shoulders and prepared for the tongue-lashing of a lifetime.
But old Mr. Groesbeck shook his head and leaned against the railing.
"Heavenly Father, you are striking me hard," he grumbled.
She crossed her arms over her breasts and looked down. What was she supposed to do?
"Something's gone wrong," he worried aloud. "This is getting out-of-hand."
Karen chewed nervously at her lip, her insides knotted up with anxiety.
"Find out what that truck is hauling," he ordered and stormed down and out.
"He's a superstitious old kook," Seth said as he climbed into the cab, still smelling of the sweet aroma of pot vapor.
"He thinks that I am bringing God's wrath on the shop!" Karen whispered angrily.
"Are you?" he asked with a chuckle.
"This is serious, Seth!" she said. "I only took this job because the commission was going to be so good and at this rate, we'll be lucky to make payroll by years-end."
His face suddenly turned very serious. "Is that true?" he asked.
She nodded.
"How short are we?" he said.
She swallowed hard before admitting: "about twelve grand."
"Shit," he said, thoughtfully.
"Exactly."
After pausing to think a moment, he told her to sit tight while he made a phone call. He paced around near the door of the shop, talking quietly, laughing cordially on a phone that Karen had not seen before: one of those pre-paid cheap phones. She closed her eyes and tried not to guess what was happening on that call.
"Have you heard of a company called GDI Nevada, LLC?" he asked when he got back.
She frowned and said "Should I have?"
"As of now: yes," he said. "They're sending over an address by fax. Send them a liability waiver to sign and an invoice for $25,000 and Yolanda will get you a certified check by Monday."
Her jaw dropped open. "What just happened?"
"We picked up some work and got back on-track," he said. "But we need Dad to quit snooping around. He will be suspicious if you or I try to convince him. You'll need Golden Boy to do it."
"Gunner?" she asked, surprised.
He shook his head.
"'Golden Boy' is Drew!" she exclaimed with more surprise.
She found the eldest brother in the barn over by the house, feeding hay into a small baler, away from the cold. His flannel shirt was taut and sweaty against his muscles and open at his furry chest. His winter beard had come in thick and bristly and he wore a wide belt buckle and thick leather belt with his work Dickies.
"I didn't even know the farm was active," she said, looking around inside the rickety old structure.
"We had to let our farmhands go, this season," Drew said as he unbuttoned his shirt all the way and fanned himself off. "I'm sure you are still aware of our budgeting concerns."
She kicked at the dirt at her feet, nervously.
"About that," she started.
"You want me to throw Dad off the scent of Seth's drug trafficking business," he said before she could finish explaining.
She guffawed. "You knew?"
He laughed out loud but angrily.
"I know more than you think, honey."
Shit, she thought.
"Yes," he said. "I know. Let me ask you something: Why should I bail you out?"
He made her so mad. "Why should…Goddamn you, Drew!"
"Yeah, goddamn me!" he shouted back.
"You know, maybe it wouldn't hurt," she burst out, "just one time! One time, Drew! For you to get over yourself and take one for the team!"
He stopped dead-cold.
"Oh, just this once?" he asked. "Let me tell you something, sweetheart…"
She shook her long locks, crossed her arms and widened her legs defiantly to hear this.
"That young man that you are so enamored with? Not only is he another woman's husband! He's a junkie!"
That word made her close her eyes. "What do you mean…"
"I mean he's addicted to opiates – and not the nice ones," Drew said.
She bit her lip and nodded and said "Good for him for…"
"Yes, good for him," he agreed, angrily. "But at what cost? Or do you care?"
"I care," she spat angrily.
"Then care about this: when my Dad blew the mortgage on the farm to pay for that ingrate to go back to St. George and go through rehab again and again – when that happened, why don't you guess which Groesbeck brother got to come back from his cushy engineering job in Culver City and pick up the slack back home?"
Karen raised her head in surprise: "Did you say Culver City?" she asked.
"You know," Drew started in his pretended hick voice, again, "Bev'ly Hills? With them fancy cee-ment ponds and sparkly city-folk from them Hollywood talking pictures!"
"I get it!" she barked back. He could be so annoying when he threw her insults back in her teeth.
"You're not the only one who had made a better life out Californey way, Karen," he said.
"I suppose you're right, Drew!" she said. "I guess I am trying to beg you to do this out of the pure goodness of your heart!"
"Well, that's quite a favor, then," he grimaced. "And I want you to give me one in return."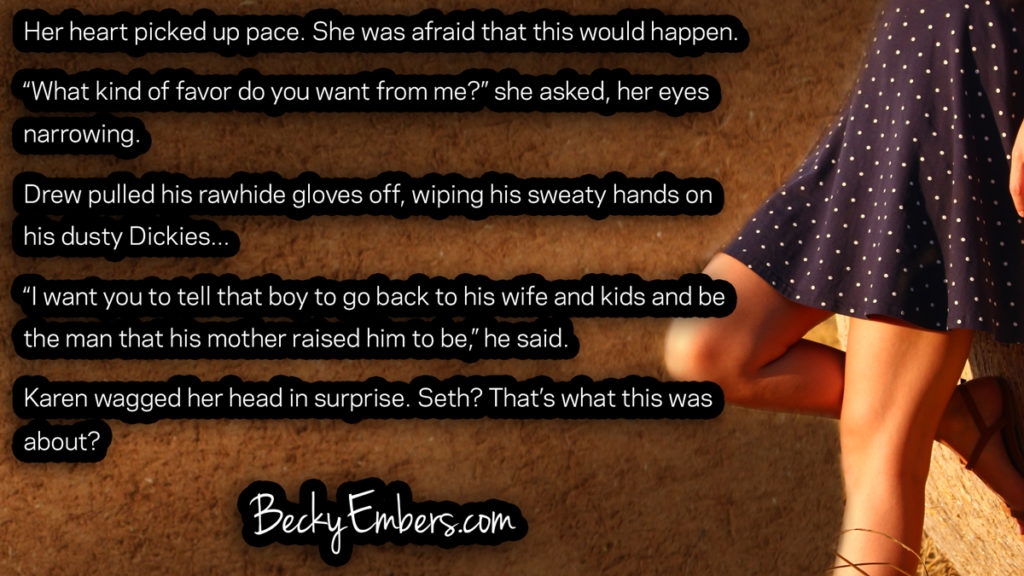 Her heart picked up pace. She was afraid that this would happen. She had never been one to complain of too much sex, but this was getting to be absurd.
"What kind of favor do you want from me?" she asked, her eyes narrowing.
Drew pulled his rawhide gloves off, wiping his sweaty hands on his dusty Dickies. He stood for a minute and leaned on the pitchfork before continuing.
"I want you to tell that boy to go back to his wife and kids and be the man that his mother raised him to be," he said.
Karen wagged her head in shock. Seth? That's what this was about?
"That's what you want?" she said.
He looked out the barn to the waning sunset. He gazed for a long moment, his fit figure a silhouette against the tropical hues of the setting day.
"You know the parable of the Prodigal Son?" Drew asked her, softly.
"Are you – YOU – going to give me a Bible Study Quiz?" she asked.
"I'm not a perfect man, but I know the Word of God, if that's what you're asking," he said. "Calm down, I'm just making conversation."
"The good son," she answered, "has to learn to forgive his father for taking back the brother who blew his inheritance on sin."
He nodded.
"What the Lord doesn't say," he continued, "is that the good son also has to watch as the Prodigal goes back to his old ways and everyone has to carry on pretending that everything has changed and that nothing is wrong."
She felt a knot descend into the pit of her stomach.
"And I'm not the only one," he said. "Seth had a high school sweetheart. A good woman. You met her and her children at family supper, last Sunday."
"Stop!" she begged, the wind knocked out of her. "Just stop! I get it!"
He looked at her as she doubled over like she had been punched in the belly.
"I'll talk to Dad," he said as he pulled the gloves back on. "But that girl did nothing but stand by Seth in his darkest hour and love him like a good wife should. Now, I'm a fuck-up. Gunner's not far behind me. And Seth…well…but Seth is a father. He needs to rise above his fucking up."
With that, Drew leaned into his baling. His cord-like muscles churning under the cuffs of his open plaid shirt as he shoved his pitchfork in and then tossed the hay to the baling machine. His chest and abs were lightly-dusted with hair very much unlike either of his carefully-manscaped brothers. dripping with sweat of a long day's work.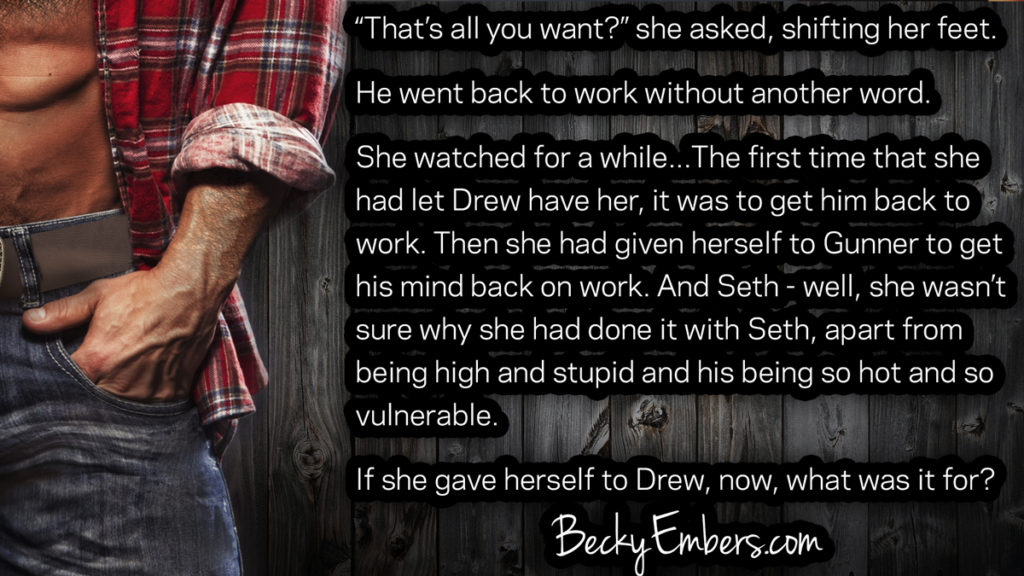 "That's all you want?" she asked, shifting her feet.
He looked up at her only briefly and then went back to work without another word.
She watched for a while. The erotic energy suspended between them in the air was intense. The first time that she had let him have her, it was to get him back to work. Then she had given herself to Gunner to get his mind back on work. And Seth – well, she wasn't sure why she had done it with Seth, apart from being high and stupid and his being so hot and so vulnerable.
Drew stopped, his shirt still hanging open and his lumberjack abs and pecs tempting her from beneath. He made eye contact with her.
If she gave herself to Drew, now, what was it for?
She still didn't know for sure as Drew bent her over a hay-bale. Loose straw poked through her cotton dress, scratching and stabbing at her breasts. Her nipples could cut glass. Tingling raced up and down her legs from the inside of her ankles to the inside of her thighs.
His hands grabbed her waist.

He firmly shoved her forward with his bony hips against her round, soft ass. Once she had a firm purchase on the bale, he ran his meaty hands up and down the sides of her rump, tracing the shapes of her curves with his thumbs.
He lifted the hem of her dress and exposed her to him. And there he discovered that she wasn't wearing panties.
"You dirty slut," he whispered.
"Oh," she whispered.
He slapped her vixen ass so hard it made her gasp. He was dissatisfied because she didn't yelp but she bit down and resisted when he did it again.
"Make noise for me," he ordered.
She struggled to catch her breath as he rocked against her, driving the straw deeper through her cotton dress and more rough against her skin.
"I – I thought – you liked me – this way…" she panted, mockingly. "You know – the quiet little Mormon wife – who can – ugh – t-take it…"
He traced one finger down her exposed ass-crack. It felt big for a finger and more than a little bit rough. A slight perspiration linger on there from where he had been sweating in his work gloves. It made her heart jump with wild excitement.
"Can you take it?" he demanded.
"Longer than you can dish it out," she answered.
"You wanna be my little Mormon wife?" he chuckled.
"Hell, no," she answered.
"But you would – become a quiet little Mormon housewife," he said, bemusedly. "To get it from me, every night."
She propped herself up on one arm and turned to look him in his brooding eyes.
"I doubt it," she began, "but maybe for your brother."
He grabbed her prop-up arm and firmly folded it behind her back until it was between her shoulder-blades.
"Fuck, yes," she breathed into the hay-bale as she landed on it.
The coarse, thick fabric of is pants bulged against his cock, an angry and dark cage for his bitter and fiery lust.
She moaned in savory apprehension.
"You want it, you dirty slut?" he said.
"God, yes," she whispered. 
He spread her legs apart and unzipped his fly.
"What did my brother say to you?" he growled into her ear.
"Which one?" she teased over her shoulder with a wicked smile.
"Gunner," he said.
"That's between me and him," she said.
"Tell me," he said. "Tell me wha he said to convince you to let him have what's mine."
"It's not yours," she answered firmly. "It's mine."
"What did he threaten to do if you didn't do it with him?" he growled.
"Seriously?" she asked as he separated her cheeks. Her eyes rolled in a sensual carousel as he traced her bumhole with his thumb.
"Nothing," she answered. "He justl ike me and I wanted him. I took him, not the other way around."
"Has he got a nice big, fat cock?" He said.
Looking back with sultry eyes, she said "I've had bigger."
His beefy cock unrolled from his pants, uncaged and free. It was bigger than she remembered and sexier. The shape of it was strong and smooth. The hairiness that she remembered from before seemed neatly trimmed and manscaped, now.
"Take it all off," she pleaded. "I want to feel your flesh against mine."
He unbuckled his large belt buckle and let it hang. Unbuttoning his pants, he pulled them and his plaid cotton boxer shorts down. 
The head of his cock teased a wide swath of her crotch and spread her buttocks as he played with her. It split her pussy-lips apart and softly kissed the opening.
"Don't tease," she begged. "Just do it!"
He thrust into her, unlocking her passion in a way that she scarcely remembered from that sexy evening on her steelcase office desk.
"Take it all," he growled.
"Give it all," she growled back.
She knew she was bruising under his fingertips but didn't care. She wanted him. She wanted him, badly.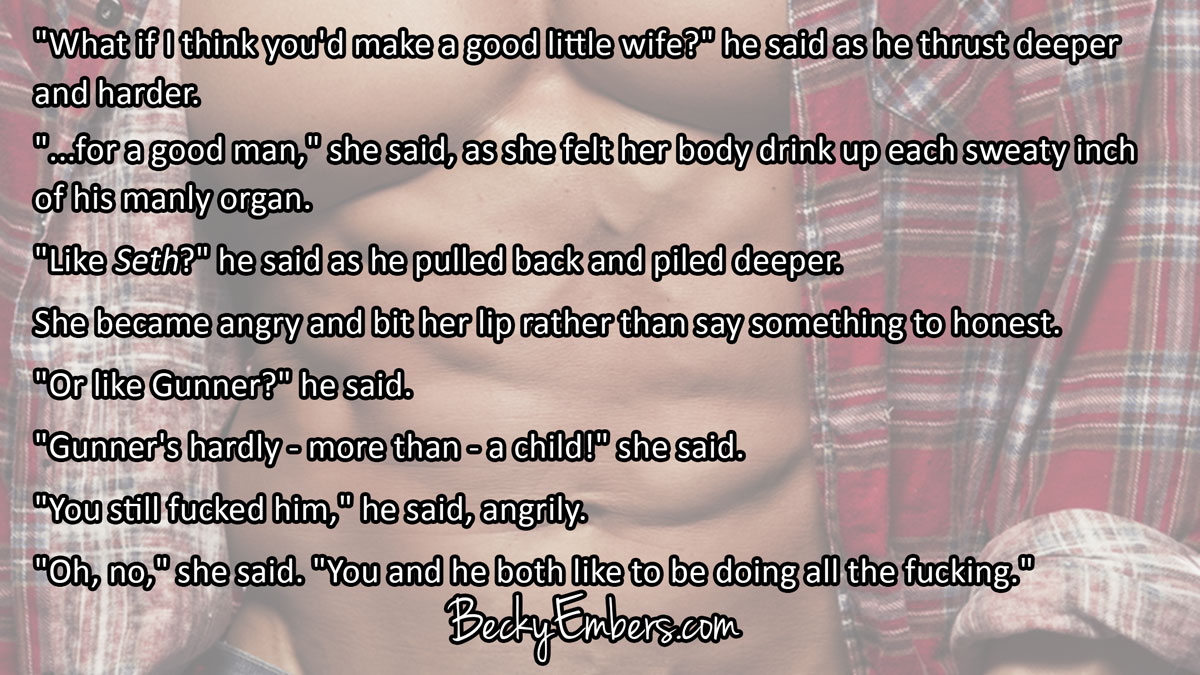 "What if I think you'd make a good little wife?" he said as he thrust deeper and harder.
"…for a good man," she said, as she felt her body drink up each sweaty inch of his manly organ.
"Like Seth?" he said as he pulled back and piled deeper.
She became angry and bit her lip rather than say something to honest.
"Or like Gunner?" he said.
"Gunner's hardly – more than – a child!" she said.
"You still fucked him," he said, angrily.
"Oh, no," she said. "You and he both like to be doing all the fucking."
He pulled and thrust, building a rhythm, slowly.
"I feel it all," she whispered. "Oh my God, I feel it all."
She pushed off of the haybale, leveraging her back into a steep arch that made every inch of his throbbing, red-hot shaft rub her just right.
"Oh!" she cried out as he rammed against her cervix again and again. "Not too hard!" she begged.
He pounded and pounded.
"Not too hard!" she cried out again.
"I thought you could take it all," he said as he pulled at her hips and slammed into her like a jackhammer. It hurt but only so deliciously that she bit her lip until she tasted blood.
He grabbed her loose hair and scooped it into his massive hand, twisting it like a rope and pulling it tight. He wound it around his hand tighter and tighter until his fist pressed against her scalp and then it became his handle to pound into her with all his strength.
"Oh!" Karen moaned. "Ohhhh!"
Then, he turned her around. At first, she thought that they were going to do it missionary position, of all things. Then he hooked his arms under her knees. She grappled around his neck to keep upright.
He hoisted her up into the air.
"Hold up," she whispered as he stood, holding her in the air. As best she could with one arm around his neck, she wrestled the dress over her head and was naked.
He set her down on his cock. She reached down and guided his massive tip back into her. He began to set her down onto his meat over and over and over. He was like a sex machine as he stood.
She kissed his forehead as she relished in the sensation. The world swirled around her in delightful sexual bliss as she sank onto him and he held her. The warm, soft fabric of his open flannel draped around her knees as she interlocked her ankles behind his bare ass and squeezed.
"I'm gonna cum, soon," he said.
"Good," she whispered.
"Can I cum inside of you?" he asked.
"What?" she said. Was he asking for permission?
"Can I cum inside of you?" he asked, again.
She touched his winter-beard softly and smiled. His dark eyes looked up to hers with a tenderness she had never seen before.
"I would love that," she said. "Let me take care  of it."
She squeezed his cock inside of her as hard as she could and sank down on him. His face knotted up in pleasure as she sank again down and down and down. She started to rock and gyrate slightly.
"Don't let me fall," she whispered.
"I won't," he promised.
"Oh my god!" she growled as quietly as she could manage and pressed her lips to his forehead.
He licked her nipple and suckled gently.
"Oh!" she moaned. "I am gonna cum for you, big man."
"Me, too," he whispered.
She grabbed hi s face in her long fingers and tilted his eyes to look up at her.
"Do it," she whispered. "Cum in me, Drew."
It was like a flood-gate had opened inside of him.
"Good boy," she breathed as her own climax peaked and she lost every locution that she could think of.
Primal, they panted and moaned and transferred sloppy, thick, loving energy between them. Climbing higher and higher peaks, together, their duet of angry fucking culminated in a beautiful crescendo of red-faced and sweet-breathed love-making.
"Will you marry me?" he said.
Her  brow knit in confusion. She touched his face.
"What did you just say?" she demanded.
"Will you do it?" he repeated, exhausted. "Will you be my 'quiet little Mormon wife' like you said?"
"Set me down," she ordered.
Facebook Comments