Girl-on-girl is my single mom blog.
So there's a stunning 29-year-old on the new Bachelor and she is getting everyone's prissy big girl panties in a bunch.
"Chelsea" is a mom of a 3-year-old boy from whom she is presumably separated while she goes looking for love on the new season of the hit ABC series. And this is where the drama sparks up.
How can a Mom leave her 3-year-old with someone else for weeks!
Uhhhhhhh, easily!
To potentially find a good-looking man and to get on TV and get your make-up and hair done professionally and become an international TV/magazine star? Fuck, yeah! If I were ten years younger, I would have done the exact same thing.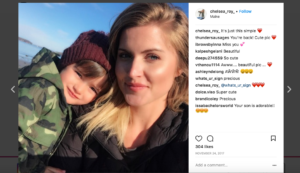 Now that the Premiere has happened and we know that not only has Chelsea been forthright about being a single mom with Arie , the Bachelor, but she received the coveted first impression rose, stoking rumors that the fix is in and she may have the advantage because she's a single mom.
Why "because"? Because he once was in a committed relationship with a single mom and lived with her and her kids. This is a big deal to single moms like me. But there is another reason why Chelsea has a better than a sporting chance at love on this season: Emily Maynard.
It is the dawning of the age of the single mom!
I'm surprised that I have yet to see another single mom blog address this. There was a lot of hullabaloo about Chelsea Roy leading up to the premiere of the new season of the show, speculating on her chances given that most other single moms on the show choose to hide that they have children until at least the second week, generally they don't last long on the show and almost none have made it to the final rose.
But one did: Emily Maynard, the Bachelorette who broke the heart of the new Bachelor: racecar driver Arie Luyendyk, Jr.
Emily had her own heart broken by Brad Womack, the Bachelor that people hated after he initially could not choose a bride. Since breaking off the long-sought-after engagement rose with Emily and breaking her heart, (even referring to their breakup as "dodging a bullet") Brad Womack is anathema among American women. One can't help but wonder how much of that has to do with the fact that when a man dumps a single mom, he dumps her kids, too.
Most people agree that she handled Arie with grace and style on her own season of The Bachelorette – choosing to pull him aside and let him down gently rather than making him wait for the humiliating final rose ceremony. But when the man she chose over him proved to not be all that sh wanted, either, it seemed that the single mom of one daughter could find no true love in the world.
This is why these shows really are very dangerous: young girls look up to these women and project their own lives onto the roadmap of these made-for-TV reality soap operas. And it is also why it is so fortunate that Emily Maynard met a man at Church after being heartbroken so many times.
What kind of role model is a single mom?
Emily was a blonde bombshell coal-miner's daughter from West Virginia who revealed in her book that she was only fifteen when she met and fell in love with her baby-daddy, NASCAR driver Ricky Hendrick. She was only 19 when they got engaged. Hendrick died in a tragic plane accident while she was pregnant with their daughter.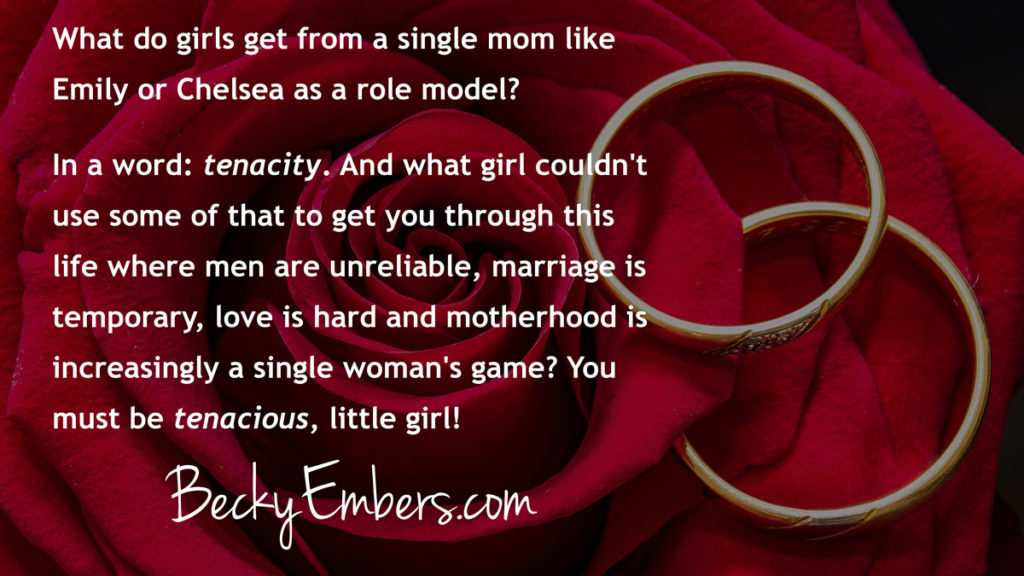 Emily's story reads like that of the cheerleader in the movie that men love-and-leave all her life. And I'm sorry but one season on The Bachelor and another as The Bachelorette only to have her Bachelorette engagement publicly fail only fortified that interpretation.
What do girls get from a single mom like Emily or Chelsea as a role model?
In a word: tenacity. And what girl couldn't use some of that to get you through this life where men are unreliable, marriage is temporary, love is hard and motherhood is increasingly a single woman's game? You must be tenacious, little girl!
Chelsea Roy has never been married and she had her son at 26. Before that, she had a career as a model (no surprise there) and then built a successful business in real estate. She is the epitome of tenacity and if I had a daughter, I would be tickled to think that she looked up to a woman like that.
As it is, I have an autistic son who mainly looks up to Batman.
You only live once.
And when you're a single mom, it's not like that life once-lived is going according to plan. But this is where The Bachelor makes me wax philosophical: life cannot be expected to go according to plan. I hate to be morbid but every second that you live and breathe is a second that you are marching toward the grave – and knowingly. Every minute spent being resentful, regretful or bitter about it is a moment wasted moving in the wrong direction.
If anything, to choose to live is to fully experience a life unplanned. The more long-term plans you make, the more ways that they can let you down and make you feel bad about yourself and about things that are mostly beyond your control.
Learn to be tenacious, Becky, I think to myself. Learn to live as a part of this life and not a victim to it.
Thanks for reading my single mom blog. It means a lot to me.
Facebook Comments