No one wants to be "loose".
Do I need to explain this? It isn't sexy. The idea of it follows up with being "used up" or "spent" or "worn out". It's not a nice way to feel about your cooch.
But after you have a baby, everything changes down there. That's a problem for single moms in a way that it isn't for married moms. Married moms have a man who is constantly trying to get her back in the saddle after having a baby. As a single mom, if you don't discipline yourself to feel sexy and get back up in that saddle, you may just forget how to ride.
As many as 60% of women say that they have trouble not peeing themselves. Yeah, that's right. I said it. Even crazier: up to half of moms experience pelvic organ prolapse, wherein the vagina "falls out". (Source)
Kegels are stupid hard because we're stupid about snatch.
One of the major reasons why Kegels exercises – exercises that lady magazines tell you to do to get back your tightness – don't work is that women don't generally understand how pussies work. Not even our own.
When  Dr. Kegel (yes, that's why they are called that) "discovered" the pelvic floor muscles that get loose and sloppy after having a baby, he used a device called a perineometer – an air pressure gauge with a balloony-tip-probe – to see how different women were able to contract their vaginal muscles. Since then, there have been all sorts of exercises and programs that claim to strengthen these muscles but with one major factor missing: the perineometer.
You're just supposed to flex against the thin air?
Think of it this way: try strengthening your arm muscles by pretending to push against a wall that isn't there. You gotta have something in there to squeeze. You could use a dildo. At least then, you're having fun, too! But a dildo doesn't give you feedback about how you're doing at contracting your muscles.
You could use your fingers, but let's face facts: if you've got your fingers in your cooter, you're not exercising (and if you are, then you have bigger problems than just your K muscles).
Quit toying with your pussy health.
Several attempts have been made to make training your pussy muscles girly and sexy using toys like the "Elvie". Elvie is an egg that you pop in your pussy and connect by bluetooth to your smartphone and play games where you make a little ball move around by flexing your lady business.
Sure, she looks cute enough, but women have had serious complaints about her! A lot of women say that it hurts to put Elvie in. Some women find it extremely frustrating that the ball doesn't move, at all and others say that they keep losing their bluetooth connection on their phone.
"Gee, what's the matter, Cindy?"
"I keep losing reception to my crotch on my phone!"
whaaaaaaat?
But most of all: women just feel Elvie is overcomplicating something that was already too hard.
Instead, get what Dr Kegel, himself, used: a perineometer. This one is very well-reviewed on Amazon and costs only about a hundred bucks. The science is pretty easy: you squeeze and the indicator goes up. You relax and it goes down. And you don't have to hook your snatch up to your phone.
Maybe what you need is a bigger cock.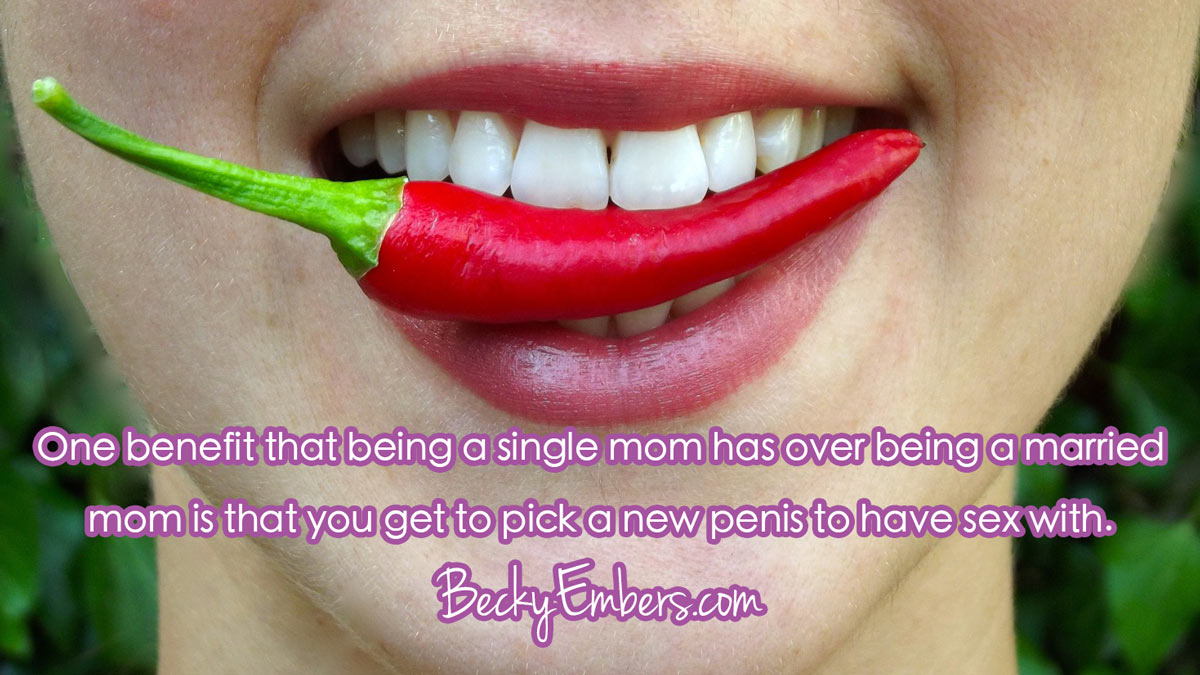 One benefit that being a single mom has over being a married mom is that you get to pick a new penis to have sex with. Not a lot to say here. It's just the facts of life. Married women have to stay put. Let's not rub that in their faces but there has to be some perk to being a single mom and one of them might be shopping around for a new penis that fits the bill.
Then, of course, there are also always bigger dildos.
Facebook Comments